Welcome to our company !
An ISO 9001:2015 certified Company that specializes in offering original, Liquid Herbal Extracts, Dry Herbal Extracts and cost-effective Herbal Products...
Good health is obtained by natural means and there is no denying in this fact. Nature has always supported mankind and health is something that is certainly un-neglectable. Combining the gift that nature provides us with ancient knowledge and new scientific methods, we,
Ayush Herbals & Healthcare Private Limited
make the most purest and quality Herbal Products. We are a
Manufacturer
and
Exporter
of
Dry & Liquid Herbal Extracts, Essential Oils
, along with a host of various other products. These products are made applying modern extraction process (where the essence of pure herbs is retained to the highest level) and by following
CGMP standards
as per international quality norms. Our ready to use products, when stored properly can be used upto 3-5 years. Our oral consumption herbal products have been approved by FDA. Since the establishment of our company in
2014
, we have been focusing on bringing forth our customers eco-frienldy herbal products, which find applicability in Cosmetic, Pharmaceutical, Ayurveda and Food industry.
Why Choose Us?
Ayush Herbals & Healthcare Private Limited is a three year old company that specializes in bringing forth not only Herbal Extracts and Essentials Oils but also Phytochemicals that promote good and healthy living standards by relieving people from stress, weight loss, skin, hair, and various other problems. We have gained our sure foot in the market by dealing honestly and transparently with our customers. Other factors that suggest why we are a reliable company to buy herbal products are as follows:
Quality assured products
Scheduled delivery service
Team of proactive and knowledgeable professionals
Large supplying network.
"We are dealing in bulk quantity requirements"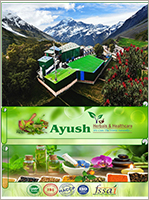 Contact Details
Vill. Nagal Suketi Road Kala Amb, P.O Moginand Tehsil Nahan, Distt. Sirmour, Kala Amb - 173030, Himachal Pradesh, India
Phone :08037261359
Mr Krishan Sharma (Managing Director)
Mobile :08037261359
Ayush Herbal And Health Care
Vill.Nagal Suketi Road Kala Amb
P.O Moginand Tehsil Nahan,
Distt. Sirmour (H.P)

Mr. Krishan Sharma (Director)
Mobile :+919882675326

Quick Services